BIO: William C. Martell

"William C. Martell is the Robert Towne of made for cable movies," (Washington Post reviewer) David Nuttycombe.

Last year William C. Martell handed in the first draft for the studio remake of a 1980s horror film, and has written 19 produced screenplays that were carelessly slapped onto celluloid: 3 for HBO, 2 for Showtime, 2 for USA Net, and a whole bunch of CineMax Originals (which is what happens when an HBO movie goes really, really wrong). He has been on some film festival juries, including Raindance in London (twice - once with Mike Figgis and Saffron Burrows, once with Lennie James and Edgar Wright - and returned to "jury duty" in October of 2009). Roger Ebert discussed his work with Gene Siskel on their 1997 "If We Picked The Winners" Oscar show. And Mr. Martell is quoted a few times in Bordwell's great book "The Way Hollywood tells It". His USA Net flick HARD EVIDENCE was released on video the same day as the Julia Roberts' film Something To Talk About and out-rented it in the USA. In 2007 he had two films released on DVD on the same day and both made the top 10 rentals.

He is the West Coast Editor of Script Magazine (the largest circulation screenwriting magazine in the world) where he has written the "Independents" screenwriting column for over a decade, a contributor to Writer's Digest Magazine and a columnist for The Hollywood Scriptwriter Magazine. He was Entertainment News Editor for Dean (INDEPENDENCE DAY) Devlin's Eon Magazine, wrote the Screenwriting 101 column for the Independent Film Channel Magazine, and was the only non-nominated screenwriter mentioned on "Siskel & Ebert's If We Picked The Winners" Oscar show in 1997. He is a frequent contributor to Ebert's Movie Answer Man syndicated column and Ebert's annual Year In Film books.

Mr. Martell has been interviewed in Variety (February 24, 1997), featured in The Hollywood Reporter's first Writers Special Issue (February 1994), was the cover interview in The Hollywood Scriptwriter (October 1996), and was interviewed in the first issue of ScreenTalk Magazine (Denmark). Entertainment Today (March 23, 2001) named his website Scriptsecrets.net the Best On The Web for screenwriters.

Interview series from Writer's Bloc Show on Virtual Network: Part 1
Interview series from Writer's Bloc Show on Virtual Network: Part 2
Interview series from Writer's Bloc Show on Virtual Network: Part 3
Interview series from Writer's Bloc Show on Virtual Network: Part 4
Interview series from Writer's Bloc Show on Virtual Network: Part 5

Video interview from London's The Writer's Room:

Mr. Martell has taught screenwriting courses at Sherwood Oaks College in Los Angeles, for Project Greenlight in Los Angeles, at the Cripple Creek (Colorado) Film Festival, the Ft. Lauderdale (Florida) Film Festival, the Temecula (California) Film Festival, Several times at the Santa Fe Screenwriters Conference along side Oscar winners William Kelley (WITNESS), David S. Ward (THE STING), and Oscar nominees Josh Olson (A HISTORY OF VIOLENCE), Chris DeVore (THE ELEPHANT MAN) and Mark Medoff (CHILDREN OF A LESSER GOD), twice at the Las Vegas Screenwriting Conference along side Steven Katz (SHADOW OF THE VAMPIRE), Shane Black (LETHAL WEAPON), and Ross LaManna (RUSH HOUR), and three times taught classes at the Sacramento (California) Film Festival. His two day Script Secrets Screenwriting class has been offered by the Raindance Film Institute in London since 2001, at the Hong Kong Film Festival for several years (sponsored by the Hong Kong Film Academy), at UCB Vancouver, at the Aarhus Film Festival in Denmark. and at several other Film Festivals and events.

Mr. Martell is currently working on several projects for major studios... including another remake of a 1980s action movie.

Mr. Martell was born in the same hospital, in the same month, as Tom Hanks. Many believe they were switched at birth, and Bill should be the movie star. He lives in Studio City, California, and can be found most afternoons in some coffee shop writing some darned new script on his laptop.

* * *

SECRETS OF ACTION SCREENWRITING

Mr. Martell's book, THE SECRETS OF ACTION SCREENWRITING (First Strike Press) has been called "The best book on the practical nuts-and-bolts mechanics of writing a screenplay I've ever read." - Ted Elliott, co-writer "The Mask Of Zorro", "Shrek", all four "PIRATES OF THE CARIBBEAN" movies.

"William C. Martell knows the action genre inside out. Learn from an expert!" - Mark Verheiden, screenwriter, "Time Cop", "The Mask" and TV's "Smallville".

"This book is dangerous. I feel threatened by it." -Roger Avary, Oscar winning screenwriter, "Pulp Fiction".

"My only complaint with SECRETS OF ACTION SCREENWRITING is that it wasn't around when I was starting out. The damned thing would have saved me years of trial and error!" -Ken Wheat, screenwriter, "Pitch Black" and "The Fly 2".

"Finally a screenwriting book written by a working professional screenwriter. Bill Martell really knows his stuff, showing you how to write a tight, fast screenplay." - John Hill, screenwriter, "Quigley Down Under".

---

Writing the next MINORITY REPORT or INSOMNIA? Buy THE SECRETS OF ACTION SCREENWRITING and learn how to write an effective plot twist, how to create unbearable suspense, design an exciting action sequence, create a high concept villain's plan, the relationship between your hero and villain, ten ways to create fresh action scenes, and dozens of other techniques. 240 pages filled with information you won't find anywhere else!

The book Pro Screenwriters recommend:
SECRETS OF ACTION SCREENWRITING

SORRY! CURRENTLY OUT OF PRINT!
Return To Menu
SCRIPT SECRETS STORE - time to monkey around!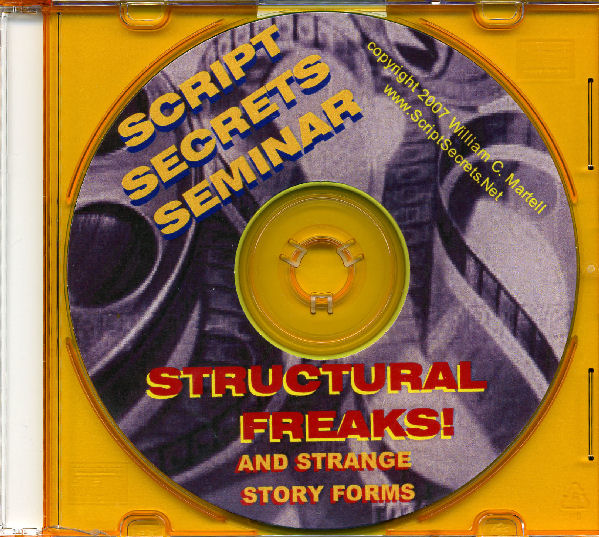 RECESSION SALE!
CLASSES ON CD! Five Classes are ready to ship on audio CD: GUERRILLA MARKETING YOUR SCRIPT: NO AGENT? NO PROBLEM!, WRITING HORROR, WRITING THRILLERS (2 CD set), WRITING INDIES and IDEAS & CREATIVITY. Classes on CD - Click Here!
WRITING THRILLERS - a TWO CD Class - The first CD covers the essentials of a thriller screenplay, using examples from MINORITY REPORT, NORTH BY NORTHWEST, BOURNE IDENTITY, BREAKDOWN, THE LADY VANISHES, THE GAME and THREE DAYS OF THE CONDOR as primary examples - what do all of those films have in common? This CD will tell you! Part Two covers the 20 iconic scenes in Thriller films, and explains how suspense works using MINORITY REPORT as an example and how plot twists work using BOURNE SUPREMACY and other films. Writing Thrillers: Two CD Class - $20.00 (plus $5 S&H)
WRITING INDIES - Writing an Indie film? This class covers everything you need to know - from Central Locations to Confined Cameos. Using examples from SWINGERS, THE COOLER, STATION AGENT and others, this 80 minute CD is packed with information. How Indie films challenge the audience (while mainstream films reassure the audience). Structures, using BOYS DON'T CRY, RUN LOLA RUN, HILARY & JACKIE, and others as example. Writing for a budget, writing for non-actors, getting the most production value out of your budget. Writing Indies is $10.00 (plus $5 S&H)
GUERRILLA MARKETING YOUR SCRIPT: NO AGENT? NO PROBLEM! Is a full length CD of my popular class on selling your script without an agent. Dozens of methods (at least thirty) to get your script to market on your own. These are all of the things that *I* have done to sell my scripts - so I know they work. The book store / Amazon price for this CD is $24.95, but you can buy it on the website for $10.00 (plus $5 S&H).
Click here for more information on CLASS CDs!
Okay, I'm the West Coast Editor, so I'm biased - but this is the best screenwriting magazine out there. Other magazines have articles *about* screenwriters, Scr(i)pt has articles *by* screenwriters. Chris Henchy and Dennis McNicholas on writing LAND OF THE LOST and interviews with Orci & Kurtzman on STAR TREK, plus Brancato & Ferris return to TERMINATOR with TERMINATOR: SALVATION and Bob Peterson and PeteDocter talk about writing in 3D for Pixar's UP! Scr(i)pt also focuses on the actual writing rather than the deal making - this is a "how to" magazine. Real nuts-and-bolts stuff! Oh, and I have at least one article in every issue. SUBSCRIBE!