AVAILABLE SCREENPLAYS




"William C. Martell is the Robert Towne of made for cable movies," The Washington Post. 19 produced scripts - 2 films released on Feb 20, 2007, one from Lion's Gate, one from Sony - both landed in the Top Ten DVD Rental Charts (originals). Plus 3 HBO World Premiere Movies, 2 Showtimes, 2 CineMax Premieres. Author of #1 selling screenwriting book at Sam French - The Secrets Of Action Screenwriting, recommended by Oscar Winners. A partial list of completed scripts. E-mail me if you're interested.




SKY HIGH

The Chicago to DC shuttle is hijacked... a bomb attached to an altimeter will explode if the plane flies below 20,000 feet. Disgraced bodyguard Jackson Bolt must organize the passengers against the hijackers as they circle Washington National Airport... but what if the bomb is nuclear, and the target is DC? Is this the second wave of terrorism? Or a group of clever thieves cashing in on 9-11 and ISIS paranoia to cover a daring mid-air heist? "The Taking of Pelham 1-2-3" meets "Speed" in an airplane... one plane you don't want to miss! Read the One Pager | *




SLEEPER AGENT

When the wife of terrorist leader Malik Akmin agrees to defect, bringing a list of 207 deep cover sleeper terrorists in the United States and Europe, elegant Interpol agent Louis Kenekium and cowboy CIA agent Jack Teller must protect her as they transport her from Turkey to Interpol in Paris - by cars, boats, and trains. After Akmin activates every sleeper in Europe, anyone could be an assassin! Chased by the world's top killers, with nowhere to hide... and someone keeps tipping off the assassins. Is one of *them* a sleeper? BOURNE meets LETHAL WEAPON. Read the One Pager | *




THE LAST STAND

To provide for his family, Bob McCrea became an accountant for Oakland's Jeffries Crime "family". After testifying against violent crime boss Felix Jeffries, Bob and his family are given new identities in the witness relocation program... A new beginning. Until they are discovered three years later. Action thriller, "Cape Fear" meets "Straw Dogs" in suburbia... with a dash of "American Gangster". Read the One Pager | *




LAST RESORT

Ex-pro football player Mark Bailey discovers his Florida resort motel is being used as a drug drop, but the drug dealer's sexy girlfriend Lacy convinces him to take the dirty money and run away with her. Mark finds the dealer dead and the money missing. He's been set up by somebody at the motel. A dozen units, a dozen suspects... with Lacy at the top of the list. Speedboat chases, suspense, big action end. "Body Heat" meets "Die Hard" in Key West.
Read the One Pager | *




COWBOY NIGHTS
When Dusty Mills takes a job at Mustang Sally's country western bar in Albuquerque, he thought the worst of his problems would be brawling college students after the bikini bull riding contests. But Sally's is really a front for the mid-west mob, where they don't just kill you - they grind you into sausage and feed you to your friends. And the guy Dusty's replacing? Just vanished one day... And the boss's hot wife has a scheme to rob the mob... Will Dusty end up barbecue? URBAN COWBOY meets BASIC INSTINCT. Read the One Pager | *



DANGEROUS CURVES
After Bill Durand's cheating wife is killed, his life is turned upside down. Who would believe he's innocent? While hiding her body, Bill's car crashes. In the hospital a Doctor gives him the bad news: "Your wife was killed in the car accident". Bill's new life is shattered when his dead wife returns from the grave, demanding that he pay for what he's done. "Blood Simple" meets Hitchcock. (central location)
Read the One Pager | *
THE COMPLEX
Rob and Ginny Townsend thought they had found the perfect apartment complex: quiet, secluded, with the ex-contractor owner on premises. Then the their neighbor was brutally murdered. Rob & Ginny begin to suspect the killer is a fellow tenant... and terror builds. A twisted thriller, "Rear Window" meets "Black Swan".. Read the One Pager | *
THE BAKER TOUCH
When LA is struck by a rash of identical, perfect, bank robberies, FBI agents Penny Baker and Phil Grant discover the secret: Bank Robbery Franchises. But the only way to discover the master criminal, the Colonel Sanders Of Crime, is to become a robber. Fun, fast paced action with a bantering mixed gender FBI team and a cool high concept. Read the One Pager
SPLICERS
When the half scorpion tunnel dog hybrids created to go after Osama Bin Laden escape into the sewers and subway tunnels of Los Angeles and begin eating passengers, a Special Forces team is sent in to eradicate them, using the super intelligent dog that provided the genetic material as their guide. Sci-Fi action - ALIENS meets A BOY AND HIS DOG. Read the One Pager | *



JUST BEFORE DAWN
Ambulance driver Jack Lowry and his partner Stuart's quiet night shift becomes hell on earth when a Mars probe disintegrates over Los Angeles, releasing germs that turn people into horny maggot-spewing zombies. Now they must navigate a swinging singles night of the living dead to rescue their girlfriends and take them to safety... before one of them becomes infected and turns on the group. SHAUN OF THE DEAD meets ELIMIDATE.
Read the One Pager | *



UNDERCURRENTS
When a master con man is killed and $9 million in swindlings are stolen, yacht captain Jeff Holmes has to navigate through a ship full of suspects to find the money and the killer before they reach port. But on a ship of foolers who can tell what's a con and what's the truth? "Usual Suspects" meets "The Grifters" on a yacht in the Caribbean. Read the One Pager
BLIND TRUST
When 17 year-old Roger Grandfort was convicted of murdering his pregnant girlfriend and her family, his wealthy mother disowned him. Twenty years later, a DNA test exonerates Roger, and he returns to the family estate a changed man - bitter, violent, angry - to live with his blind mother and her live-in pretty nurse. But is this man her son, or an imposter sent to murder her? A twisted thriller in the tradition of WAIT UNTIL DARK about family, forgiveness... and cold blooded murder. Read the One Pager | *



STEEL CHAMELEONS
"Invasion Of The Body Snatchers" meets "Terminator 2": Investigator Ken Royce with the Bureau of Alcohol, Tobacco, Firearms & Androids tracks down androids stolen from a "Westworld" type amusement park, and reluctantly teams with a tough female homicide detective when he discovers the androids have been programmed to kill and given 'liquid skin technology' so they can look like anyone. Their target - the President and several key Senators... A complete take over of US Government! Read the One Pager | *
GATORBABY
When Maggie and her twenty-something cousins are invited to their wealthy great grandfather's private island off the coast of Florida for his 104th birthday party, each hopes to be included in his will. Soon they begin uncovering family secrets, including a vicious half man / half alligator that may be a long lost relative. The terror of JAWS meets CAT ON A HOT TIN ROOF in one horror-filled week trapped on an island with a monster... and no way to escape it's powerful jaws. Every family has its secrets... this one has teeth!
Read the One Pager | *
ANDROID ARMY
A rag-tag group of humans and aliens must band together while waiting for their ship to refuel during a riot on a prison planet. Seven against an army of unstoppable terminator android prisoners. Can the seven learn to work together to survive? Will they accept charismatic alien prisoner Merritt as their leader? Kick-ass action sci-fi: "Terminator" meets "Assault On Precinct 13"/"Riot In Cellblock 11". (central location) Read the One Pager | *
UNREASONABLE FORCE
Department gunslinger Harry Keaton's last six partners got shot. So they decide to partner him with someone who can tame him. Single mom homicide detective Kelly Brooks. Now they're taking bets on how long Kelly will last. The murder of a politician's wife leads the uneasy team to a master criminal's plan to import plastic guns into the USA in an action comedy like "Lethal Weapon" with a mixed gender team. Read the One Pager | *
MARGIN FOR TERROR
When six vicious bank robbers crash the gates at the Bayview Luxury Condominiums and hold the residents hostage while police surround the complex; two residents escape capture. Armed only with kitchen knives, suburbanites Don and Tom must take on the gang of heavily armed men to rescue their wives. The North Hollywood bank robbers meets "The Desperate Hours"(1955). Read the One Pager
50 SHADES OF MURDER
A surfer girl Cinderella meets a Prince Charming with Malibu beach house. It would be a fairy tale romance except for Charming's rich-bitch wife. Charming suggests they kill the wife and live happily ever after... but nothing goes as planned. "Body Heat" on the beach, with a dash of "Fatal Attraction". (central location) Read the One Pager | *
LUCKY ROLL
Bob Gardner wins big at the crooked Desert Queen Casino... then gets "mugged" in the parking lot by masked Casino goons. Bob hatches a scheme to rob the high security casino using only a magician s levitator, an R/C model plane, 37 grommets, two auto creepers, a recording of rooftop pigeons, and... Clever "Topkapi" type caper like "Thomas Crown Affair" or "Ocean's Thirteen". Read the One Pager
DOWN FOR THE COUNT
When ultra-cool private detective Jack Diamond's best friend Bobby is arrested for the brutal murder of a violent World Champion boxer famous for his violent streak, he sets out to prove his buddy innocent. But their friendship is put to the ultimate test when every clue he uncovers leads back to Bobby. Action packed big screen mystery: "Peter Gunn" and "Shaft" meets "Chinatown". Read the One Pager
DOUBLE ACTION
When tough Texas Ranger Hank Carson is killed, his wise-cracking sidekick Jake Hunter chases the killers from Texas to Russia. A cowboy in Moscow. With a Russian detective hot on his trail, Jake tracks the killers, uncovering a plot to flood the USA with cheap automatic weapons stolen from the Russian military. "Red Heat" in reverse with a story torn from today's headlines. Read the One Pager | *
ROGUE AGENT
When retired C.I.A. agent Ben Rance's friend Robby is gunned down on the streets of Paris, he decides to investigate... becoming involved with Robby's fiancÚ and uncovering a conspiracy to re- open the "French Connection" heroin route into the USA. Who is behind the plot to flood the United States with cheap smack? A twisted espionage thriller in the Len Deighton style. Read the One Pager
***
TREATMENTS AND OLDER MATERIAL
THIRD LAW
When single mom teacher Emily Sykes' son Freddy is busted for vandalism, she rents a sailboat for the summer and heads down the coast to Mexico with Freddy. But when they dock in Malagua, Freddy is kidnaped by bandits who think they are wealthy Americans. The police suggest Emily pay the ransom. She tries to negotiate with the kidnappers - explaining that she is NOT wealthy. They warn her to pay the ransom or Freddy is dead. Emily doesn't speak the language, can't pay the ransom, has no one to turn to for help... She has no choice but to go deep into the jungle to rescue Freddy. An American school teacher against a vicious group of kidnappers. From Mom to Rambo. Read the Treatment



FESTIVAL OF THE DEAD
When crazed child killer The Pied Piper breaks out of the asylum and returns to the sleepy New Mexico town where he was captured a dozen years ago; the only three children to survive (Linda Thomas, Geary and Tina now in their 20s) band together to hunt him and kill him. But the town has hired bounty hunter Schrader who specializes in killing serial killers... and he wants to use the three as bait. Stalk and slash turned on its head as the hunted become the hunters... and the victims get revenge. Read the Treatment



GHOST
After Kathy's husband is murdered by a drug gang, she commits suicide... and ends up in Hell. The Devil makes her a deal - he will send her back to Earth to get revenge on the people who killed her husband... but she will lose her soul. Kathy returns as an angel of vengeance - killing everyone involved in her husband's death. But instead of losing her soul, she finds it... and wonders if revenge is right. And wonders if she really went to Hell... or if it was all part of a con to get her to become a hitwoman for a rival gang? Read the One Pager
BLOOD TIES
When his brother is thrown in jail for murder, divorced father/ insurance man Lew Cane works with his friend, top insurance investigator Kenny Gores, to clear him. But when Gores is killed, Cane realizes this is not a simple murder... but the tip of a massive counterfeiting conspiracy, and the only way to clear his brother is to uncover and destroy the conspiracy... Before they destroy him. (completed script)
THE THIRD GUNMAN
Worn out Public Defender Del Harper is assigned the case of a Senator's assassin, who claims to be innocent. The alleged assassin's conspiracy story, about an assassin-for-hire organization, seems possible, and Del wonders if his client is innocent. But the client is killed by a Jack Ruby like zealot before the trial. Now Harper is the man who knew too much. As he tries to prove the assassin for hire organization exists, he finds himself on the run. Chased by dozen of assassins, sent to keep him quiet. Will Del Harper be able to uncover the conspiracy before the catch him... and kill him? (completed script) Read the One Pager
DESERT OF BLOOD
The American West, 1886: Gunslinger Tom Ford and his sexy partner Mary Hathaway rob the Bank Of Corkscrew with the help of Head Teller Owen Hawks. But when Mary and the money disappear, the Gunslinger and Bank Teller investigate... and discover a remote Wells Fargo relay station haunted by the ghosts of massacred Indians. Ford's six-guns don't work against the supernatural... so the timid bank teller must outsmart the ghosts to survive. A frightening ghost story in the old west. (completed script) Read the One Pager



ALL FALL DOWN
Linda McKinney's husband Herb is found tortured and shot in the back of the head - execution style. FBI Agent Ted Gallaway tells Linda her husband was one of six professional thieves known as "The Wrecking Crew" who knocked over an armored truck and got away with ten million dollars. Herb double crossed his partners - and the other five thieves are in town, looking for their share... they think Linda has it. Linda must learn to fend for herself, to navigate the lies within lies that were her husband's life, and fight for survival against a quintette of dangerous armed robbers. Read the One Pager



ABSOLUTE ZERO
A C-17 military cargo plane is shot down over the arctic, a seven man Marine TRAP team (Tactical Recovery of Aircraft and Personnel) is sent in to rescue the personnel and top secret weapons. But the plane was not downed by an enemy missile, it was involved in a mid-air collision... with an alien spacecraft. Before they can retrieve the weapons they are attacked by an alien Search & Rescue Team sent to Earth to rescue their pilot. The battle between *their* Rescue Team and *our* Rescue Team turns to all out war in the frozen Arctic wasteland. Read the One Pager



RAILROADED
When businessman Mark Farrow is framed for murder onboard the Los Angeles to San Francisco bullet train, he has two hours before the train pulls into the station to capture the killer while evading three FBI agents. At 150 miles per hour, there's no way off the train... no escape. "The Fugitive" meets Hitchcock's "The Lady Vanishes" played in 'real time'. (completed script) Read the One Pager



ROGAN'S WIFE
When Detective Chris Rogan is blown to bits by a car bomb, the police department seems uninterested in finding his killer. They tell widow Maddy that her husband was a corrupt cop. Maddy leaves her peaceful suburban home to clear her dead husband's name... discovering a criminal conspiracy inside the force murdered her *innocent* husband. Maddy decides to take the law into her own hands... to re-invent herself as an engine of destruction and bring down the conspiracy. (completed script) Read the One Pager



SIDEWINDER SEVEN
When a C-17 cargo plane full of chemical weapons destined for a top secret site in Nevada is shot down by mercenaries over the Rockies, pilot Brad Hanson and spunky park ranger Jasmine must climb mountains and race across dangerous terrain to stop the mercs, lead by ex-Colonel Hessions, from recovering the deadly cargo and unleashing it on Los Angeles... where the President is attending a conference. SIDEWINDER SEVEN is THE ROCK in the Rockies - a non-stop race with the fate of the nation in the balance. Read the One Pager
AIR FORCE ONE DOWN
When the President of the United States in shot down in a break away Russian territory, top fighter pilot Grant Mitchell is sent on a covert mission to find the President and bring him to a pick up point... before word leaks out that AF1 is down. Mitchell lands behind enemy lines, discovers the wreckage of Air Force One and the bodies of his staff and the Press Crew... but the President is gone. A rebel hostage. Mitchell is discovered! By sexy Russian agent Yelana Andreeva. Together they must sneak past enemy patrols to find and rescue the President... but once they rescue him, Mitchell still has to fly him out of the country, battling an enemy air force along the way. Read *Rough* First Act
LAST ASSASSIN
Read the One Pager
BUGHOUSE
Read the One Pager
GRINDER
Read the One Pager
TRACKER
Dan Blackhorse is the best tracker in the Federal Bureau of Investigation. Unlike his Native American forefathers, he uses psychological profiles and minute clues that even the best forensic scientists miss to track his quarry. When Dan's wife is killed in a hostage-for-ransom situation created by a criminal mastermind, Blackhorse quits the FBI and relentlessly hunts the killers. (completed script) Read the One Pager



PRICE OF FEAR
Read the Detailed Treatment
If you are a producer and want a hard copy of any of these scripts... E-mail me! wcmartell@ScriptSecrets.Net
BIO:
I just handed in the first draft for the studio remake of a 1980s horror film, and I've written 19 films that were carelessly slapped onto celluloid: 3 for HBO, 2 for Showtime, 2 for USA Net, and a whole bunch of CineMax Originals (which is what happens when an HBO movie goes really, really wrong). I've been on some film festival juries, including Raindance in London (twice - once with Mike Figgis and Saffron Burrows, once with Lennie James and Edgar Wright - back to "jury duty" in October of 2009). Roger Ebert discussed my work with Gene Siskel on his 1997 "If We Picked The Winners" Oscar show. I'm quoted a few times in Bordwell's great book "The Way Hollywood tells It". My USA Net flick HARD EVIDENCE was released on video the same day as the Julia Roberts' film Something To Talk About and out-rented it in the USA. In 2007 I had two films released on DVD on the same day and both made the top 10 rentals.
SCRIPT SECRETS STORE - time to monkey around!
Did you like HANGOVER so much last weekend you needed a little hair of the dog that bit you? Is this version of UP much better than Russ Meyer's version? Were you glad your friends dragged you to DRAG ME TO HELL? Be heard: Movie Discussion!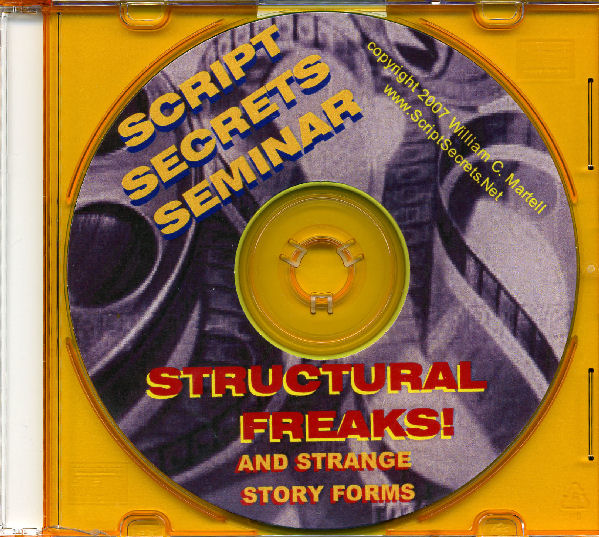 RECESSION SALE!
CLASSES ON CD! Five Classes are ready to ship on audio CD: GUERRILLA MARKETING YOUR SCRIPT: NO AGENT? NO PROBLEM!, WRITING HORROR, WRITING THRILLERS (2 CD set), WRITING INDIES and IDEAS & CREATIVITY. Classes on CD - Click Here!
WRITING THRILLERS - a TWO CD Class - The first CD covers the essentials of a thriller screenplay, using examples from MINORITY REPORT, NORTH BY NORTHWEST, BOURNE IDENTITY, BREAKDOWN, THE LADY VANISHES, THE GAME and THREE DAYS OF THE CONDOR as primary examples - what do all of those films have in common? This CD will tell you! Part Two covers the 20 iconic scenes in Thriller films, and explains how suspense works using MINORITY REPORT as an example and how plot twists work using BOURNE SUPREMACY and other films. Writing Thrillers: Two CD Class - $20.00 (plus $5 S&H)
WRITING INDIES - Writing an Indie film? This class covers everything you need to know - from Central Locations to Confined Cameos. Using examples from SWINGERS, THE COOLER, STATION AGENT and others, this 80 minute CD is packed with information. How Indie films challenge the audience (while mainstream films reassure the audience). Structures, using BOYS DON'T CRY, RUN LOLA RUN, HILARY & JACKIE, and others as example. Writing for a budget, writing for non-actors, getting the most production value out of your budget. Writing Indies is $10.00 (plus $5 S&H)
GUERRILLA MARKETING YOUR SCRIPT: NO AGENT? NO PROBLEM! Is a full length CD of my popular class on selling your script without an agent. Dozens of methods (at least thirty) to get your script to market on your own. These are all of the things that *I* have done to sell my scripts - so I know they work. The book store / Amazon price for this CD is $24.95, but you can buy it on the website for $10.00 (plus $5 S&H).
Click here for more information on CLASS CDs!
Okay, I'm the West Coast Editor, so I'm biased - but this is the best screenwriting magazine out there. Other magazines have articles *about* screenwriters, Scr(i)pt has articles *by* screenwriters. Chris Henchy and Dennis McNicholas on writing LAND OF THE LOST and interviews with Orci & Kurtzman on STAR TREK, plus Brancato & Ferris return to TERMINATOR with TERMINATOR: SALVATION and Bob Peterson and PeteDocter talk about writing in 3D for Pixar's UP! Scr(i)pt also focuses on the actual writing rather than the deal making - this is a "how to" magazine. Real nuts-and-bolts stuff! Oh, and I have at least one article in every issue. SUBSCRIBE!