MONDAY'S SCRIPT TIP:

FOCUSED SUSPENSE




Suspense scenes are often based on a "focus object" which the suspense revolves around, like the key to the wine cellar in Ben Hecht's NOTORIOUS that manages to build suspense for an entire sequence - probably more than ten minutes! Another Hitchcock film, Ernest Lehman's NORTH BY NORTHWEST uses a matchbook in a very tense scene.

Our protagonist, Roger O. Thornhill (Cary Grant), is a Madison Avenue advertizing man mistaken for C.I.A. Agent George Kaplan by a group of deep cover Soviet spies lead by Van Damm (James Mason). No matter how much he protests, no matter how many times he shows his I.D. proving he's not Kaplan ("They make such good ones") Van Damm still tries to kill him again and again. While trying to find the real Kaplan, Thornhill meets the beautiful Eve Kendall on a train and falls in love with her. When he lights a post-dinner cigarette, she jokes about the initials on his monogrammed matchbook: ROT.

After spending Act 2 unable to find Kaplan but able to find all kinds of trouble, Thornhill is told by the head of the C.I.A. (Leo G. Carroll) that Kaplan doesn't exist, he's a decoy created to keep the heat off their actual agent - Eve Kendall. Now, Eve is not some kick ass Emma Peel who knows 57 ways to kill a man with her bare hands, she was Van Damm's girlfriend, and when she discovered he was a badguy, she went to the CIA, and was convinced *not* to break up with him - instead get closer to him and report all of his secrets. And tonight she's going behind the Iron Curtain with Van Damm... and Thornhill is supposed to just let the woman he loves go deeper into danger. So the man who has spent the whole film insisting he's *not* a man of action, ends up becoming a man of action to save the woman he loves....

Roger goes to Van Damm's house, sneaks under the living room window... where he overhears sinister henchman Leonard (Martin Landau) and Van Damm talking about the plane that will land soon to take them away... and Leonard tells Van Damm that Eve is an American agent... and their plan to deal with her? They are going to throw her out of the plane! Roger climbs to a section under Eve's room and throws rocks at her window. What happens next? When she *finally* looks out the window, Roger is forced to hide from Van Damm and Leonard... and she doesn't see him! Instead of things going according to plan - the opposite happens. No easy scenes, here. Roger climbs up to her room... just as she's left her room and gone downstairs!

And now we come to the focus object: one of Roger's monogrammed matchbooks.

Roger is upstairs, hiding on the balcony, and Eve is downstairs sitting on the sofa in the same room as Van Damm and Leonard. How does he stop her from going with them? How does he tell her they know she's a CIA agent?

Roger pulls out a monogrammed matchbook, jots a note inside, and throws it from the balcony to the ashtray on the table directly in front of Eve while Leonard and Van Damm are looking out the window as the plane lands. The matchbook misses the ash tray. It misses the table. It hits the floor halfway to Leonard's feet. Nothing easy here... and it gets worse. The matchbook is the "focus object" - an object that creates suspense.

It is sitting there, on the floor, between Eve and Leonard & Van Damm. It has Roger's initials on it. It has a note inside from Roger. If Leonard or Van Damm spot it before Eve does, they will kill her and then kill him.

The conversation continues, with that monogrammed matchbook on the floor.
Tension builds.
And builds.
And builds.

Leonard turns and walks toward Eve, sees the matchbook, picks it up!

Suspense - because we know if he opens the matchbook and reads the message, Eve is dead and so is Roger. We are focused on that matchbook... will he open it? Examine it? Realize that ROT stands for Roger O Thornhill?

But here's the thing - he thinks Roger is George Kaplan... and ROT means nothing to him. So he places the matchbook in the ashtray in front of Eve. But Eve knows ROT - and now must *not* look at the matchbook while Leonard is talking to her. More suspense based around that matchbook.

When Leonard turns away, she grabs the matchbook, reads the message... but the plane has landed, and Van Damm and Leonard hustle her out of the house so that they can leave... and they can throw her out of the plane later. Twist!

The suspense in the scene is generated by that matchbook, just as suspense in NOTORIOUS is generated by the wine cellar key.

WATER TORTURE

In the middle ages sword and sex cheesefest FLESH + BLOOD, Princess Jennifer Jason Leigh has been kidnaped by Mercenary Rurger Hauer, and eventually becomes his mistress. Hauer is leader of a band of Mercenary soldiers - knights in rusted armor - who are raping and pillaging their way across Europe. They were double crossed by the evil Prince who Jennifer was engaged to, and now they are doing everything possible to make that Prince's life hell on earth. Eventually they capture the Prince, and chain him up near a well. Princess Jennifer, Hauer's mistress and the Prince's finace, is about to have a meal with all of the other mercenaries celebrating the capture of the Prince.

Before the other mercenaries reach the table, the Prince grabs a piece of plague infested meat from the trash and drops it in the well, poisoning the drinking water.

Jennifer sees this, and the question is - will she tell anyone? As the water is brought from the well to the table, tension builds. The water in the jug becomes the "focus object". Water is poured into glasses of several mercenaries who were not kind to her when she was kidnaped. She wants revenge against them, so she says nothing.

The Prince watches her, waiting for her to tell them that the water is poisoned. She sees the shackled Prince watching her, and she watches the mean mercenaries drink the poisoned water one-by-one.

That jug of poisoned water goes from mean mercenaries... to women and children. The poisoned water is poured into their glasses and they start to drink it... will Jennifer tell them it is poisoned? Suspense builds.

The Prince watches her, waiting for her to stop them from drinking. But both of them watch as the women and children drink the poisoned water.

Then the jug of poisoned water is passed to Rutger Hauer, her lover. He pours a glass of water. Will she let him drink it? She is torn between the man she was engaged to and the man she sleeps with every night. What will she do? Hauer is having a conversation with some of the others, and every time he grabs the glass to drink, someone says something and he responds instead of drinks. Suspense builds.

The Prince, shackled by the well smiles at her. What will she do?

As Hauer lifts the glass to his lips, she...

See how focus objects work? They create suspense by giving the protagonist and the audience the same secret information that is tied to an object... and then places that object where the secret can be discovered by characters who can not know that secret.

KISS ME DEADLY

In my cable film HARD EVIDENCE there is a scene where our businessman hero Ken (Gregory Harrison) and his drug running girl friend (Cali Timmins) have to cross a border with $4 million in cash and heroin in a suitcase. Now, this suitcase is specially designed to pass through an ex-ray machine (it has an etched lead picture of clothes, and that's what the ex-ray will show), but the minute a Customs Agent opens it, our hero is in jail for the rest of his life. In the script it was a brutal Mexican jail, but because they shot the USA Network movie in Vancouver it ended up being a Canadian jail on screen - not much of a threat... but let's go with the brutal Mexican jail scenario...
In the script, they fly into LA and go through the customs line at the airport. As they wait their turn, suspense builds. Everyone in the line has a suitcase, but theirs is filled with heroin and money from a dope deal gone wrong - our hero ended up killing a DEA Agent! As they get closer and closer to the Customs Agent, suspense builds. Someone in front of them has their luggage searched thoroughly. Their suitcase gets closer and closer to the Customs Agent. Tension builds.
Their turn. The Customs Agent examines the suitcase exterior and asks them questions. His fingers move to the latches... will he open it? The girlfriend makes a joke, the Customs Agent smiles, and passes them through without opening their luggage.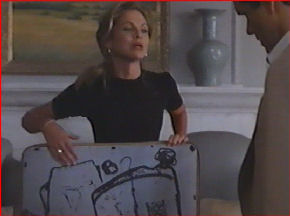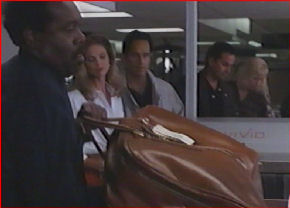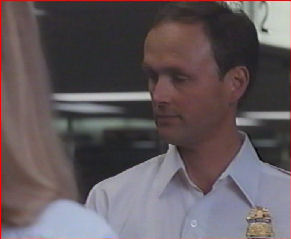 In a story conference, one of the producers wanted to change the location from the airport to a drive through check point.... they had a beautiful one they could get for the film. I argued: The focus of the scene needs to be the suitcase filled with drugs and money. If we drive a car through the checkpoint, the focus becomes the CAR. The Customs Agent will want to search the trunk, check to see if anything is hidden in the spare tire, and feel the seats for suspicious lumps. Sure, he might search the suitcase, but it's one of SEVERAL items in his search, not the FOCUS of his search.
The producer ended up agreeing with me that the airport scenario was better than the check point, even if the location wasn't as exciting. The scene as written was focused and suspenseful... through there is no line in the filmed version, and not much suspense. The curse of TV movie direction - it's all shot coverage style instead of using the best shot to tell the story.
FOCUS ON THE PAGE
Even though we don't control whether how the director shoots the scene, we want to make sure the focus object is used to build suspense on the page. As they say, if it ain't on the page, it ain't on the stage. I don't know if TRANSPORTER 3's focus object was used to create suspense on the page, but it seemed to be ignored on the screen.
TRANSPORTER 3 has a big high concept focus object swiped from some other movie... one that starred Rutger Hauer, coincidentally! Our tough guy driver Frank (Jason Statham) and the girl he's transporting each have an explosive bracelet around their wrists - if they get 25 feet away from the car, the bomb is activated, 50 feet away from the car and the bomb is set to go off... and 75 feet away from the car? Blam! Frank is blown to a zillion pieces in a massive fireball and explosion. So, it's best not to leave the car. This leads to some great scenes - one where the car is stolen and Frank has to keep up with it and get it back, using a bicycle and anything else he can grab.
But the director never shows us the danged bracelet in this chase - green you're okay, yellow at 25 feet, orange at 50 feet, red at 75 feet before you blow up. I want to know how much trouble Frank is in from minute to minute! They come up with this great suspense "focus object" and then never focus on it! No shots of it! Now, those "shots" may have been on the page or they may not have been - but *our* job is to make sure they *are* there. The action on the page includes milking that focus object for everything it's worth and making the scene a nail-biter of a read. We want to show that bracelet changing from green to yellow... and then changing from yellow to orange... then have Frank get close enough to the car that it goes back to yellow again. And keep that happening again and again throughout the scene. Once you create that focus object, it's your job to create the suspense that goes with it.
The great thing about focus objects is that you can use them in any genre. From action and suspense to rom-coms and comedies. Any time you want to charge a scene with suspense, just figure out what object shouldn't be in that scene... then put it there. A love note from the protag's ex? A skunk at the formal banquet? Once you've added the focus object, don't forget to milk it throughout the scene by creating a bunch of close calls... that escalate to keep the suspense building. What is the focus object in your suspense scene? Suspense comes from the ANTICIPATION of an event... the focus object is the physical (visual) representation of that event. It can be as simple as a glass of water or a matchbook.
BRAND NEW

OUTLINES & THE THEMATIC!

OUTLINES & THE THEMATIC Blue Book.

ARE YOUR SCENES IN THE RIGHT ORDER?
AND ARE THEY THE RIGHT SCENES?

Your story is like a road trip... but where are you going? What's the best route to get there? What are the best sights to see along the way? Just as you plan a vacation instead of just jump in the car and start driving, it's a good idea to plan your story. An artist does sketches before breaking out the oils, so why shouldn't a writer do the same? This Blue Book looks at various outlining methods used by professional screenwriters like Wesley Strick, Paul Schrader, John August, and others... as well as a guest chapter on novel outlines. Plus a whole section on the Thematic Method of generating scenes and characters and other elements that will be part of your outline. The three stages of writing are: Pre-writing, Writing, and Rewriting... this book looks at that first stage and how to use it to improve your screenplays and novels.




ALSO NEW!

DESCRIPTION & VOICE Blue Book!

DESCRIPTION & VOICE Blue Book.

IS HALF OF YOUR STORY IN TROUBLE?

Most screenplays are about a 50/50 split between dialogue and description - which means your description is just as important as your dialogue. It just gets less press because the audience never sees it, the same reason why screenwriters get less press than movie stars. But your story will never get to the audience until readers and development executives read your script... so it is a very important factor. Until the movie is made the screenplay is the movie and must be just as exciting as the movie. So how do you make your screenplay exciting to read? Description is important in a novel as well, and the "audience" does read it... how do we write riveting description?
My New Script Secrets Newsletter!

NEW BOOKS!
NEW AND HOT!

*** STRUCTURING YOUR STORY *** - For Kindle!




William Goldman says the most important single element of any screenplay is structure. It's the skeleton under the flesh and blood of your story. Without it, you have a spineless, formless, mess... a slug! How do you make sure your structure is strong enough to support your story? How do you prevent your story from becoming a slug? This Blue Book explores different types of popular structures from the basic three act structure to more obscure methods like leap-frogging. We also look at structure as a verb as well as a noun, and techniques for structuring your story for maximum emotional impact. Most of the other books just look at *structure* and ignore the art of *structuring* your story. Techniques to make your story a page turner... instead of a slug!




NO KINDLE REQUIRED! Get the *free* app (any device, except your Mr. Coffee) on the order page on Amazon!




LEARN SUSPENSE FROM THE MASTER!

*** HITCHCOCK: MASTERING SUSPENSE *** - For Kindle! Alfred Hitchcock, who directed 52 movies, was known as the *Master Of Suspense*; but what exactly is suspense and how can *we* master it? How does suspense work? How can *we* create "Hitchcockian" suspense scenes in our screenplays, novels, stories and films?

This book uses seventeen of Hitchcock's films to show the difference between suspense and surprise, how to use "focus objects" to create suspense, the 20 iconic suspense scenes and situations, how plot twists work, using secrets for suspense, how to use Dread (the cousin of suspense) in horror stories, and dozens of other amazing storytelling lessons. From classics like "Strangers On A Train" and "The Birds" and "Vertigo" and "To Catch A Thief" to older films from the British period like "The 39 Steps" and "The Man Who Knew Too Much" to his hits from the silent era like "The Lodger" (about Jack The Ripper), we'll look at all of the techniques to create suspense!

Only $5.99




BRAND NEW!

All five "Bourne" movies (including "Legacy" and it's potential sequels) - what are the techniques used to keep the characters and scenes exciting and involving? Reinventing the thriller genre... or following the "formula"? Five films - each with an interesting experiment! A detailed analysis of each of the films, the way these thrillers work... as well as a complete list of box office and critical statistics for each film. This book is great for writers, directors, and just fans of the series.

Only $3.99 - and no postage!




AUDIO CLASS!

NOIR & MYSTERY80 minute CD packed with information on writing Film Noir and Mystery scripts. Using examples from CHINATOWN to OUT OF THE PAST to DOUBLE INDEMNITY you'll learn how to create stories in this dark, twisted genre. How to plant clues, red herrings, suspects, victims, spider women, fallen heroes, the funhouse mirror world of noir supporting characters... and the origins of Film Noir in literature Noir dialogue and how noir endings are different than any other genre. All of the critical elements necessary to write in this critically popular genre.
The Noir & Mystery Class is only $15 (plus $5 S&H). First 20 on Limited Black Disk!

RECESSION SALE! $5 OFF!

IDEAS AND CREATIVITY - 80 minute CD packed with information. Tools to find ideas that are both personal *and* commercial. Hollywood wants scripts with High Concept stories... but not stupid scripts. Developing *intelligent* high concept ideas. How to turn your personal story into a blockbuster - or find your personal story in a high concept idea. Brainstorming and being creative. Ideas and Creativity is $10.00 (plus $5 S&H)

WRITING INDIES - Writing an Indie film? This class covers everything you need to know - from Central Locations to Confined Cameos. Using examples from SWINGERS, THE COOLER, STATION AGENT and others, this 80 minute CD is packed with information. How Indoe films challenge the audience (while mainstream films reassure the audience). Structures, using BOYS DON'T CRY, RUN LOLA RUN, HILARY & JACKIE, and others as example. Writing for a budget, writing for non-actors, getting the most production value out of your budget. Writing Indies is $10.00 (plus $5 S&H)

WRITING HORROR - The essentials of a horror screenplay - what do ROSEMARY'S BABY, NIGHT OF THE LIVING DEAD, THE EXORCIST, BRIDE OF FRANKENSTEIN, THE OTHERS and OPEN WATER have in common? This class will tell you! All of the critical elements necessary to write a script that scares the pants off the audience. Writing Horror is $10.00 (plus $5 S&H).

Click here for more information on CLASS CDs!
THE BOOK THAT STARTED IT ALL!

*** THE SECRETS OF ACTION SCREENWRITING *** - For Kindle!

*** THE SECRETS OF ACTION SCREENWRITING *** - For Nook!

Why pay $510 for a used version of the 240 page 2000 version that used to retail for $21.95? (check it out!) when you can get the NEW EXPANDED VERSION - over 500 pages - for just $9.99? New chapters, New examples, New techniques!

"SECRETS OF ACTION SCREENWRITING is the best book on the practical nuts-and-bolts mechanics of writing a screenplay I've ever read." - Ted Elliott, co-writer of MASK OF ZORRO, SHREK, PIRATES OF THE CARIBBEAN and the sequels (with Terry Rossio). (ie; 4 of the top 20 Box Office Hits Of ALL TIME.)




READY TO BREAK IN?

NEW!

*** BREAKING IN BLUE BOOK *** - For Kindle!




Should really be called the BUSINESS BLUE BOOK because it covers almost everything you will need to know for your screenwriting career: from thinking like a producer and learning to speak their language, to query letters and finding a manager or agent, to making connections (at home and in Hollywood) and networking, to the different kinds of meetings you are will have at Studios, to the difference between a producer and a studio, to landing an assignment at that meeting and what is required of you when you are working under contract, to contracts and options and lawyers and... when to run from a deal! Information you can use *now* to move your career forward! It's all here in the Biggest Blue Book yet!

Print version was 48 pages, Kindle version is over 400 pages!

$4.99 - and no postage!

NO KINDLE REQUIRED! Get the *free* app (any device, except your Mr. Coffee) on the order page on Amazon!




STORY: WELL TOLD!

*** STORY: WELL TOLD *** - For Kindle!




This book takes you step-by-step through the construction of a story... and how to tell a story well, why Story always starts with character... but ISN'T character, Breaking Your Story, Irony, Planting Information, Evolving Story, Leaving No Dramatic Stone Unturned, The Three Greek Unities, The Importance Of Stakes, The Thematic Method, and how to create personal stories with blockbuster potential. Ready to tell a story? Print version was 48 pages, Kindle version is over 85,000 words - 251 pages!

Only $4.99 - and no postage!




MOVIES ARE CHARACTERS!

*** CREATING STRONG PROTAGONISTS *** - For Kindle!

*** CREATING STRONG PROTAGONISTS *** - For Nook!

Expanded version with more ways to create interesting protagonists! A step-by-step guide to creating "take charge" protagonists. Screenplays are about characters in conflict... characters in emotional turmoil... Strong three dimensional protagonists who can find solutions to their problems in 110 pages. But how do you create characters like this? How do you turn words into flesh and blood? Character issues, Knowing Who Is The Boss, Tapping into YOUR fears, The Naked Character, Pulp Friction, Man With A Plan, Character Arcs, Avoiding Cliche People, Deep Characterization, Problem Protagonists, 12 Ways To Create Likable Protagonists (even if they are criminals), Active vs. Reactive, The Third Dimension In Character, Relationships, Ensemble Scripts, and much, much more. Print version is 48 pages, Kindle version is once again around 205 pages!

ONLY $4.99 - and no postage!




ACT TWO SOLUTIONS!

*** ACT TWO SECRETS *** - For Kindle!




Expanded version with more techniques to help you through the desert of Act Two! Subjects Include: What Is Act Two? Inside Moves, The 2 Ps: Purpose & Pacing, The 4Ds: Dilemma, Denial, Drama and Decision, Momentum, the Two Act Twos, Subplot Prisms, Deadlines, Drive, Levels Of Conflict, Escalation, When Act Two Begins and When Act Two Ends, Scene Order, Bite Sized Pieces, Common Act Two Issues, Plot Devices For Act Two, and dozens of others. Over 67,000 words (that's well over 200 pages) of tools and techniques to get you through the desert of Act Two alive! Print version was 48 pages, Kindle version is well over 200 pages!

ONLY $4.99 - and no postage!




SUBPLOTS?

*** SUPPORTING CHARACTER SECRETS *** - For Kindle! (Exclusive)




Expanded version with more techniques to flesh out your Supporting Characters and make them individuals. Using the hit movie BRIDESMAIDS as well as other comedies like THE HANGOVER and TED and HIGH FIDELITY and 40 YEAR OLD VIRGIN and many other examples we look at ways to make your Supporting Characters come alive on the page. Print version was 48 pages, Kindle version is around 170 pages!

ONLY $4.99 - and no postage!




Over 240 pages!

*** THE TERMINATOR MOVIES *** - For Kindle!




He's back! The release of "Terminator: Genisys" (now on BluRay) is set to begin a new trilogy in the Terminator story... 31 years after the first film was released. What draws us to these films about a cybernetic organism from the future sent back in time? Why is there a new proposed trilogy every few years? This book looks at all five Terminator movies from a story standpoint - what makes them work (or not)? What are the techniques used to keep the characters and scenes exciting and involving? How about those secret story details you may not have noticed? Containing a detailed analysis of each of the five films so far, this book delves into the way these stories work... as well as a complete list of box office and critical statistics for each film. This book is great for writers, directors, and just fans of the series.

ONLY $3.99 - and no postage!




ADVICE FROM 1920!

*** VINTAGE #1: HOW TO WRITE PHOTOPLAYS *** - For Kindle!

***

Screenwriting books have been around as long as films have. This series reprints vintage screenwriting books with a new introduction and history, plus new articles which look at how these lessons from almost 100 years ago apply to today's screenplays. Anita Loos book is filled with information which still applies. In addition to the full text of the original book, you get the full screenplay to Miss Loos' hit THE LOVE EXPERT, plus several new articles on the time period and women in Hollywood.

ONLY $2.99 - and no postage!




I WRITE PICTURES!

*** VISUAL STORYTELLING *** - For Kindle! (exclusive)




Show Don't Tell - but *how* do you do that? Here are techniques to tell stories visually! Using Oscar Winning Films and Oscar Nominated Films as our primary examples: from the first Best Picture Winner "Sunrise" (1927) to the Oscar Nominated "The Artist" (which takes place in 1927) with stops along the way Pixar's "Up" and Best Original Screenplay Winner "Breaking Away" (a small indie style drama - told visually) as well as "Witness" and other Oscar Winners as examples... plus RISE OF THE PLANET OF THE APES. Print version is 48 pages, Kindle version is over 200 pages!

ONLY $4.99 - and no postage!




BEST SELLER!

*** YOUR IDEA MACHINE *** - For Kindle!

*** YOUR IDEA MACHINE *** - For Nook!

Expanded version with more ways to find great ideas! Your screenplay is going to begin with an idea. There are good ideas and bad ideas and commercial ideas and personal ideas. But where do you find ideas in the first place? This handbook explores different methods for finding or generating ideas, and combining those ideas into concepts that sell. The Idea Bank, Fifteen Places To Find Ideas, Good Ideas And Bad Ideas, Ideas From Locations And Elements, Keeping Track Of Your Ideas, Idea Theft - What Can You Do? Weird Ways To Connect Ideas, Combing Ideas To Create Concepts, High Concepts - What Are They? Creating The Killer Concept, Substitution - Lion Tamers & Hitmen, Creating Blockbuster Concepts, Magnification And The Matrix, Conflict Within Concept, Concepts With Visual Conflict, Avoiding Episodic Concepts, much more! Print version is 48 pages, Kindle version is over 175 pages!

Only $4.99 - and no postage!




PRO DIALOGUE TECHNIQUES!

*** DIALOGUE SECRETS *** - For Kindle!

*** DIALOGUE SECRETS *** - For Nook!

Expanded version with more ways to create interesting dialogue! How to remove bad dialogue (and what *is* bad dialogue), First Hand Dialogue, Awful Exposition, Realism, 50 Professional Dialogue Techniques you can use *today*, Subtext, Subtitles, Humor, Sizzling Banter, *Anti-Dialogue*, Speeches, and more. Tools you can use to make your dialogue sizzle! Special sections that use dialogue examples from movies as diverse as "Bringing Up Baby", "Psycho", "Double Indemnity", "Notorious", the Oscar nominated "You Can Count On Me", "His Girl Friday", and many more! Print version is 48 pages, Kindle version is over 175 pages!

Only $4.99 - and no postage!
Use your creative energy to focus on the content; let Final Draft take care of the style. Final Draft is the number-one selling application specifically designed for writing movie scripts, television episodics and stage plays. Its ease-of-use and time-saving features have attracted writers for almost two decades positioning Final Draft as the Professional Screenwriters Choice. Final Draft power users include Academy, Emmy and BAFTA award winning writers like Oliver Stone, Tom Hanks, Alan Ball, J.J. Abrams, James Cameron and more. * * * Buy It!