BIZ TIP TUESDAY:

HOW WILL A STRIKE EFFECT ME?




The WGA contract is up at the end of this month (October) and the Producers and Writers are pretty far from agreeing on a new contract. The big issue this time around is residuals (what would be royalties to a novelist). The Producers want to get rid of residuals completely - not share any of the money they make from TV, DVDs, and everything else. So far, their "compromise" has been to pay residuals only after the film has gone into profit... Sounds reasonable, until you realize that after the creative book keeping, no film ever goes into profit. COMING TO AMERICA made $300 million domestic, and by the time they got done playing around with the books, the movie *lost money*. So the compromise isn't much of a compromise. The main residuals in question seem to be DVD - where studios make a ton of money and writers make a couple of cents, and "new media" where writers make nothing. Have you ever downloaded a movie from Netflix or Amazon? The writer makes no residuals on that. Though only a small percentage of people download movies today, what about tomorrow? The contract lasts 3 years - how many people will download movies from Netflix or their cable provider in 2010? The WGA is trying to learn from their video mistakes and solve the download issues *now*.

WHAT IS THE WGA?

Many new writers have some strange ideas about what the WGA is. The WGA is not a cult, nor is it a cabal - it's not some secret organization that excludes new writers. It is not an employment agency - being a member doesn't guarantee you a job, and they aren't going to find you a job. The WGA is a labor union. It's purpose is *collective bargaining*. Just like any other union. The first union I ever joined was the Retail Clerks Union when I got a job at Safeway Grocery... and we went through a huge, ugly, strike while I was a member.

A union, like the WGA, is a group of writers banding together to negociate a contract with the employer that will be good for all of them. Safety in numbers. Big name writers standing beside new writers. Instead of a lone writer trying to deal with a producer (and getting screwed) a whole bunch of writers deal with the producers - and the producers worry about pissing off *all* of us, so they make a better deal. Now, this deal is called the MBA - it's the *least* a producer can pay a writer, and the basic rules they have to follow when dealing with writers. Without the MBA, writers could be paid next to nothing and treated poorly and not get credit for their work.

The purpose of the WGA is protect its members. All for one and one for all.

Like all labor unions, by making things better for their members, they often make things better for non-members.

The WGA's contract only extends to WGA signatory producers - those that have agreed to the contract. In order to make sure producers sign the contract, WGA writers agree not to work for companies that don't sign the contract. That means if a producer wants to hire a WGA writer like William Goldman or Tony Gilroy, they *must* sign the contract. This is great for the rest of us, because that means the studios and big producers sign the contract... and we get the same benefits as those big name writers. If a studio like Paramount wants to work with a big name writer, they sign the contract and *every* script that Paramount buys falls under that contract.

NON-SIGNATORIES
But not every producer has signed the contract. Many low budget producers don't sign the contract, because they know they aren't going to ever hire William Goldman... or any other WGA writer... so they don't care. Because they are non-signatory, they don't have to pay WGA minimums, or give the writer credit, or treat the writer well. They can pay the writer $1 for the script if they want. That's not an option, that's all the writer will ever make - $1. Though most writers would never take a dollar, there are non-sig companies like Asylum that pay writers $1,000 for a complete screenplay (and sometimes rewrites). And there are writers who take it.
Most new writers think they can't be paid less than WGA minimums... but only WGA members get paid WGA minimums. There are *many* small companies out there making low budget films that are not WGA signatory.
HOW DO I JOIN?
To join the WGA you need to sell a script to a WGA signatory producer. Just that simple. Once you sell that script, you can be living on a desert island with a beachball named Wilson... and the WGA will find you and ask you to join. You see, since only WGA writers can sell to WGA signatory producers, you now need to join the WGA.
(Actually, there's a gray area here - technically you can sell a script to a WGA signatory company and you don't have to join... but if you do *rewrites* on your script you have to join. The reason for this - selling a script is just selling a piece of property, but doing a rewrite is being hired by the WGA signatory producer. I don't know any reason why you *wouldn't* want to join the WGA, anyway, and leave the possibility of the $1,000 script sale behind you).
The WGA *wants you to join* - they are not a exclusive club of screenwriters. The more members they have, the stronger they are.
They won't let you join until you have sold a script - but that makes sense because the only reason the WGA exists is to negociate a contract with producers. It's all about contracts, and if you aren't at a point in your career where contracts are important, you don't need the WGA and they can't really do anything for you.
CAN I WORK DURING THE STRIKE?
If there is a WGA strike, what does this mean to an unsold writer? What are the rules about selling a script during the strike?
Imagine Berlin during the Cold War. There's this huge wall running through the city with barbed wire and broken glass on top. There's a little checkpoint in the wall - with armed guys guarding it. On both sides of the wall are Germans (screenwriters - see, this is deeply symbolic).
Okay. West Berlin is WGA signatory. The companies in West Berlin have signed and agreement with the WGA only to use workers from West Berlin (WGA members).
East Berlin is non-signatory. The companies there can only hire East Berliners (non-WGA members).
Companies in West Berlin don't care what happens in East Berlin.
Companies in East Berlin don't care what happens in West Berlin.
There's this big wall between them. It's like two different worlds.
The only time anyone cares is when someone tries to climb that wall. If an East Berliner tries to climb into West Berlin without being invited, or if a West Berliner tries to climb into East Berlin (seldom happens - the big money is in West Berlin where everybody drives a Mercedes Benz and has WGA signatory jobs - while East Berliners barely get by).
So if you are a WGA member and you hop the wall to work for a non-WGA signatory company you'll be in big trouble.
If you're a non-WGA member and try to hop the wall to work for the WGA signatory companies on the other side - that company will be in big trouble for hiring a non-WGA member.
But wait... Remember that checkpoint with the armed guards?
That's a way in without hopping the wall! If you are a non-WGA writer you can join the WGA (once you are hired by a WGA signatory company). It's like becoming a West Berlin citizen - you now have the right to work on this side of the wall. What's more - nobody cares what you did in East Berlin. That's your past. You are now a West Berliner - it's like starting all over again!
So... As a non-WGA writer you can work as much as you want for non-WGA signatory companies, and nobody cares. Once you join the WGA, you can ONLY work for WGA signatory companies - but nobody cares what you did before you joined the WGA.
The strike will ONLY effect West Berlin... but if anyone tries to hop over the wall they'll be tried and executed.
During the strike, WGA signatory companies will NOT be hiring non-signatory writers. It's just not going to happen. If the studio can't get Steve Zaillian that doesn't mean they'll hire you instead. For the past few months the studios have been stockpiling scripts in case there's a strike. Studios always buy many more scripts than they need, so even if the strike went on for YEARS they wouldn't run out of scripts... You know that giant warehouse full of stuff at the end of RAIDERS OF THE LOST ARK? Well, the studios have one of those warehouses full of scripts they've bought over the years that they haven't produced. They produce *less than* one tenth of the scripts they buy. They don't need to risk hiring an East Berliner to work in West Berlin. So the strike doesn't help new writers much - they are still on the other side of that wall working for the East Germans. The only good news - they can work for non-WGA signatory producers during the strike... while WGA writers can't work for anybody.
But as soon as the strike is over producers will want "new scripts" which will create a very active market and many chances for new writers to sell scripts (and join the WGA). Studios won't be buying scripts until the strike is over.
ON TV (which eats scripts quickly) we'll probably see more reality programming and news shows during the strike (look for 60 MINUTES 3, 4, & 5!) because they don't use writers.
Did that answer your questions about the WGA strike, or are you now worried that your papers aren't in order?
Total rewrite of a tip that hasn't run since 2001 - the last strike!
SCRIPT SECRETS STORE - time to monkey around!
Is RESIDENT EVIL proof that female lead action flicks work if they focus on the action and the female? Is THE GAME PLAN a sign that the world is about to end? Can's wait to see KINGDOM 2: ELECTRIC BUGALOO? Be heard: Movie Discussion!

Discount code is: 2007Expo_Martell
Registration Page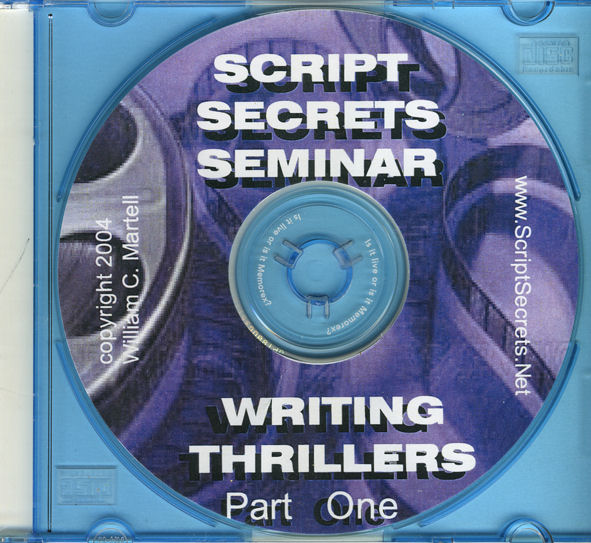 CLASSES ON CD! Five Classes are ready to ship on audio CD: GUERRILLA MARKETING YOUR SCRIPT: NO AGENT? NO PROBLEM!, WRITING HORROR, WRITING THRILLERS (2 CD set), WRITING INDIES and IDEAS & CREATIVITY. Classes on CD - Click Here!
WRITING THRILLERS - a TWO CD Class - The first CD covers the essentials of a thriller screenplay, using examples from MINORITY REPORT, NORTH BY NORTHWEST, BOURNE IDENTITY, BREAKDOWN, THE LADY VANISHES, THE GAME and THREE DAYS OF THE CONDOR as primary examples - what do all of those films have in common? This CD will tell you! Part Two covers the 20 iconic scenes in Thriller films, and explains how suspense works using MINORITY REPORT as an example and how plot twists work using BOURNE SUPREMACY and other films. Writing Thrillers: Two CD Class - $24.95 (plus $5 S&H)
WRITING INDIES - Writing an Indie film? This class covers everything you need to know - from Central Locations to Confined Cameos. Using examples from SWINGERS, THE COOLER, STATION AGENT and others, this 80 minute CD is packed with information. How Indoe films challenge the audience (while mainstream films reassure the audience). Structures, using BOYS DON'T CRY, RUN LOLA RUN, HILARY & JACKIE, and others as example. Writing for a budget, writing for non-actors, getting the most production value out of your budget. Writing Indies is $14.95 (plus $3 S&H)
GUERRILLA MARKETING YOUR SCRIPT: NO AGENT? NO PROBLEM! Is a full length CD of my popular class on selling your script without an agent. Dozens of methods (at least thirty) to get your script to market on your own. These are all of the things that *I* have done to sell my scripts - so I know they work. The book store / Amazon price for this CD is $24.95, but you can buy it on the website for $14.95 (plus $3 S&H).
Click here for more information on CLASS CDs!