AVAILABLE SCREENPLAYS - THE A TEAM




"William C. Martell is the Robert Towne of made for cable movies," The Washington Post. 19 produced scripts - 2 films released on Feb 20, 2007, one from Lion's Gate, one from Sony - both landed in the Top Ten DVD Rental Charts (originals). Plus 3 HBO World Premiere Movies, 2 Showtimes, 2 CineMax Premieres. Author of #1 selling screenwriting book at Sam French - The Secrets Of Action Screenwriting, recommended by Oscar Winners.




These are the select "A Team" screenplays - most are virgins and have never been read by anyone. You have been sent here by special invitation. This is a private page, not available to the public. Please keep this URL secret.




New Hot Virgins:

VOLATILE
Eddy Heuer lost everything when the economy went south: his job, his house, his wife. He spends his final unemployment check getting drunk, wakes up with fresh stitches. Stolen kidney? Nope - implanted bomb. He can read the LED timer through his skin! A voice on the phone gives him six tasks - an hour for each (or he explodes). Steal a car, steal a suit off a man, steal a gun... assassinate select executives from the company that fired him! "Falling Down" meets "Speed". Read the One Pager | Read The Screenplay



SECOND SON
Michael Spenta is the Vatican's version of Indiana Jones who discovers a twelfth Dead Sea Scroll which prophesies the second coming of Christ. The Vatican orders him to forget it. After Demon Lord Angra steals the scroll, Spenta must fly to Detroit to find the virgin mother. When Angra unleashes an army of demons: Snake Spitters, Dust Devils, Brimstoners, and Conqueror Worms; Spenta and male nurse Darius Thrace must protect virgin mother Maria until she gives birth. Non-stop run and gun action meets creepy horror. ROSEMARY'S BABY meets THE GAUNTLET. Read the One Pager |
THE LAST ADVENTURE
Before spending a lifetime working in a cubicle, college grads Ken Deakins and Conrad Harper buy a treasure map to Yamashita's Gold - a real WW2 fortune buried in the Philippines. With the help of feisty female guide, Lari, they race evil Dr. Leeland Garmes to the treasure - battling stick-fighters on the world's longest rope bridge, searching a city covered by a volcanic eruption, climbing mountains... and facing the ultimate test of friendship. Part RAIDERS OF THE LOST ARK, part college comedy, all adventure. Read the One Pager | Read The Screenplay
SLEEPER AGENT
When the wife of terrorist leader Malik Akmin agrees to defect, bringing a list of 207 deep cover sleeper terrorists in the United States and Europe, elegant Interpol agent Louis Kenekium and cowboy CIA agent Jack Teller must protect her as they transport her from Turkey to Interpol in Paris - by cars, boats, and trains. After Akmin activates every sleeper in Europe, anyone could be an assassin! Chased by the world's top killers, with nowhere to hide... and someone keeps tipping off the assassins. Is one of *them* a sleeper? BOURNE meets FROM RUSSIA WITH LOVE. Read the One Pager | Read the screenplay.
PAST LIVES
Emotionally damaged child psychologist Penny Temestra chases after escaped eleven year old patient Cassie, not wanting to believe the child is possessed by her past life - a murder victim hell-bent on bloody revenge. Can Penny *catch* Cassie before she kills...or is discovered by the killer? "The Sixth Sense" meets Hitchock's "Vertigo". Read the One Pager | Read The Screenplay
SHADOWMAN
Single mom TV reporter Becky Conway is chosen to be one of the 12 witnesses to the execution of savage serial killer Bodeen Pike... who vows to come back from the grave and kill every one of them. When members of the "Death Jury" begin dying in strange ways, Becky races to stop Pike's *shadow* from forming in the darkness and killing again. Classic Val Lewton style supernatural suspense.
Read the One Pager | Read The Screenplay
Other Event Specs:
DARK SALVAGE
Salvage diver Lonnie Marks and his team fight sharks, the high seas, and modern day pirates in sea planes to discover and recover millions in gold from a sunken Spanish Galleon. His greatest challenge will be dealing with his ex-partner, ex-best friend... and the past mistakes that kept him out of the water. Big adventure. The deeper you dive, the darker it gets... Indiana Jones in swim fins. Read the One Pager | Read the screenplay.



HARD RETURN
In 2017 the central computer that controls everything from stop lights to air traffic control to oxygen production gets a virus. Planes are crashing, power is out, people are dying. We send a team of Scientists guarded by a squad of Marines, lead by Sgt. John Cabot, into the computer to destroy the virus. "Aliens" meets "Fantastic Voyage" inside a computer. Read the One Pager



THE KILLING ANGLE
A powerful (Madoff-like) Wall Street investment firm owner is killed on the VIP floor of a luxury hotel. Security cameras show four different angles of the murderer...but each seems to show a different suspect! Hotel detective Lou Parker races against time to find the real killer. "Grand Hotel" meets video "Rashomon" with plenty of twists. Read the One Pager | Read the screenplay.
DEAD RUN
Ambulance driver Matt Rohmer is running for his life, when the dead Candidate he picked up last night continues making LIVE speeches on national TV... Resurrected through CGI! When Matt discovers the conspiracy, he's captured, scanned into a computer... and the entire United States watches as his image assassinates the Candidate on live TV! How can you convince a nation (and your ten year old son) that you aren't the crazed political assassin they saw on TV last night? Fast paced action thriller, non-stop chase, "North By Northwest" meets "Wag The Dog". Read the One Pager



THE LAST ADVENTURE
Before spending a lifetime working in a cubicle, college grads Ken Deakins and Conrad Harper buy a treasure map to Yamashita's Gold - a real WW2 fortune buried in the Philippines. With the help of feisty female guide, Lari, they race evil Dr. Leeland Garmes to the treasure - battling stick-fighters on the world's longest rope bridge, searching a city covered by a volcanic eruption, climbing mountains... and facing the ultimate test of friendship. Part RAIDERS OF THE LOST ARK, part college comedy, all adventure.
Read the One Pager | Read The Screenplay
ALTITUDE
The Chicago to DC shuttle is hijacked... a bomb attached to an altimeter will explode if the plane flies below 20,000 feet. Disgraced bodyguard Jason Bolt must organize the passengers against the terrorists as they circle Washington National Airport... but what if the bomb is nuclear, and the target is DC? Is this the second wave of terrorism? Or a group of clever thieves cashing in on 9-11 paranoia? "The Taking of Pelham 1-2-3" meets "Speed" in an airplane... one plane you don't want to miss! Read the One Pager | Read the Screenplay
SHOW OF FORCE
Top Gun Tom Stone and his co-pilot Judy Barton must defend an aircraft carrier carrying the President against massive enemy air strikes when a Middle East Peace Treaty turns into World War 3. "Air Force One" meets "The Alamo" on an aircraft carrier. Based on actual Dept. Of Defense documents about Iran!
Read the One Pager | Read the screenplay.




The Rest Of The Available Scripts:

About 30 Other Avaialable Scripts! (But some have been around... even lived with producers for a while. None are virgins, but all are, you know, really good at what they do.)

Plus...
I have *SEVENTY* half page ideas for sequels to films in a specific studio's library, for DVD sequels. All high concept on top of the original film's high concepts. I typed up these ideas for a producer whose studio connections weren't quite as good as he thought, and they are all *mine* at this point. And if you have a connection to a *different* studio and want a huge list of high concept DVD sequel ideas? Call me.




BIO:
I just handed in the first draft for the studio remake of a 1980s horror film, and I've written 19 films that were carelessly slapped onto celluloid: 3 for HBO, 2 for Showtime, 2 for USA Net, and a whole bunch of CineMax Originals (which is what happens when an HBO movie goes really, really wrong). I've been on some film festival juries, including Raindance in London (twice - once with Mike Figgis and Saffron Burrows, once with Lennie James and Edgar Wright - back to "jury duty" in October of 2009). Roger Ebert discussed my work with Gene Siskel on his 1997 "If We Picked The Winners" Oscar show. I'm quoted a few times in Bordwell's great book "The Way Hollywood tells It". My USA Net flick HARD EVIDENCE was released on video the same day as the Julia Roberts' film Something To Talk About and out-rented it in the USA. In 2007 I had two films released on DVD on the same day and both made the top 10 rentals.




For a hard copy of any of these scripts... E-mail me! wcmartell@ScriptSecrets.Net




SCRIPT SECRETS STORE - time to monkey around!




Did you like HANGOVER so much last weekend you needed a little hair of the dog that bit you? Is this version of UP much better than Russ Meyer's version? Were you glad your friends dragged you to DRAG ME TO HELL? Be heard: Movie Discussion!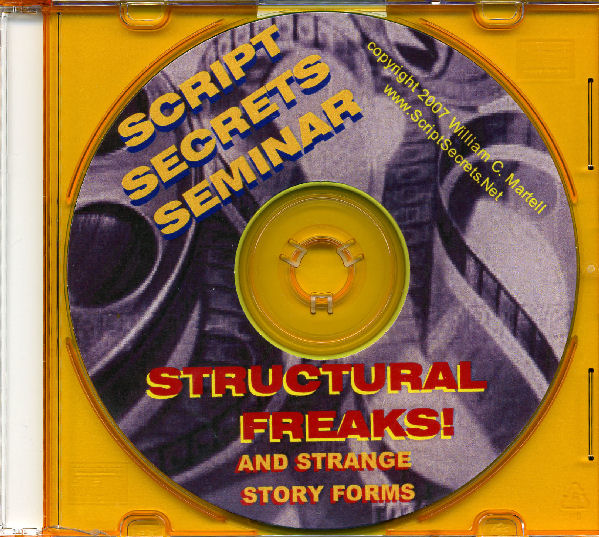 RECESSION SALE!
CLASSES ON CD! Five Classes are ready to ship on audio CD: GUERRILLA MARKETING YOUR SCRIPT: NO AGENT? NO PROBLEM!, WRITING HORROR, WRITING THRILLERS (2 CD set), WRITING INDIES and IDEAS & CREATIVITY. Classes on CD - Click Here!
WRITING THRILLERS - a TWO CD Class - The first CD covers the essentials of a thriller screenplay, using examples from MINORITY REPORT, NORTH BY NORTHWEST, BOURNE IDENTITY, BREAKDOWN, THE LADY VANISHES, THE GAME and THREE DAYS OF THE CONDOR as primary examples - what do all of those films have in common? This CD will tell you! Part Two covers the 20 iconic scenes in Thriller films, and explains how suspense works using MINORITY REPORT as an example and how plot twists work using BOURNE SUPREMACY and other films. Writing Thrillers: Two CD Class - $20.00 (plus $5 S&H)
WRITING INDIES - Writing an Indie film? This class covers everything you need to know - from Central Locations to Confined Cameos. Using examples from SWINGERS, THE COOLER, STATION AGENT and others, this 80 minute CD is packed with information. How Indie films challenge the audience (while mainstream films reassure the audience). Structures, using BOYS DON'T CRY, RUN LOLA RUN, HILARY & JACKIE, and others as example. Writing for a budget, writing for non-actors, getting the most production value out of your budget. Writing Indies is $10.00 (plus $5 S&H)
GUERRILLA MARKETING YOUR SCRIPT: NO AGENT? NO PROBLEM! Is a full length CD of my popular class on selling your script without an agent. Dozens of methods (at least thirty) to get your script to market on your own. These are all of the things that *I* have done to sell my scripts - so I know they work. The book store / Amazon price for this CD is $24.95, but you can buy it on the website for $10.00 (plus $5 S&H).
Click here for more information on CLASS CDs!
Okay, I'm the West Coast Editor, so I'm biased - but this is the best screenwriting magazine out there. Other magazines have articles *about* screenwriters, Scr(i)pt has articles *by* screenwriters. Chris Henchy and Dennis McNicholas on writing LAND OF THE LOST and interviews with Orci & Kurtzman on STAR TREK, plus Brancato & Ferris return to TERMINATOR with TERMINATOR: SALVATION and Bob Peterson and PeteDocter talk about writing in 3D for Pixar's UP! Scr(i)pt also focuses on the actual writing rather than the deal making - this is a "how to" magazine. Real nuts-and-bolts stuff! Oh, and I have at least one article in every issue. SUBSCRIBE!