THURSDAY'S SCRIPT TIP:

CHALLENGING THE ELEMENTS




In my Secrets Of Story Blue Book I break down story in 10 key elements - Ideas, Conflict, Concept, Character, Plot, Location, Time, Tone, Genre and Arena. You may be wondering why anyone in their right mind would ever do such a thing - shouldn't we be FEELING story rather than THINKING about it? I think we should be doing both. Using our hearts to make sure our screenplays have emotional resonance and our minds for craft. So we're going to look at the craft side of your story (I trust you have a heart, and I implore you to get in touch with your emotions and use them when writing scripts). Craft is all about effective storytelling... and telling effective stories. Our screenplays aren't only written for ourselves, they are written for a global audience of 600 million people. How can we get all of those people interested in our stories?

One way to make sure your story works is to take it in for a tune up. When you take your car to a mechanic, the first thing he's going to do is pop the hood and examine the engine. Your car trouble may be spark plugs, carburetor, the electrical system, the distributor, the computer, the cooling system, the oil & lubrication system, or any number of other elements. The mechanic is going to check out each element starting with the most likely to cause whatever problem you may be having. We're going to do something similar with our stories - we're going to examine each element to make sure it's in optimum working condition before we spend a big chunk of our lives writing the script. If any piece of our story can be improved, we want to do it before we've written 110 pages. The more pre-writing, the less rewriting.

BEST LEAD ACTOR?

Our story is about an ex-police detective living in a retirement home who investigates the death of a fellow resident and discovers it was murder.

The bad news about this good idea: it's a movie for old people, and movie audiences tend to be between 15-25 (dating age). So a script has to appeal to that age group. It doesn't have to be ABOUT 15-25 year olds, but it has to be about something they understand. Retirement? Old folks homes? Adult diapers? I'd suggest you either find a way to tell this story so that it appeals to people under 65, or make the film yourself independently.

So let's recast the lead - instead of Kirk Douglas our story is going to star Michael Douglas - the character element is going to appeal to more people, so we'll be able to get our story to more people. A recurring theme in many of my scripts is the "has been" who gets back into game - that's basically what this story is. We have a detective who has been put out to pasture by society - forgotten or disgraced - who has the chance to return to his old job and takes it. He's been beaten down but he's picking himself up. Once we realize that's the essence of the story (it's a personal theme for me) we can find the way to recast with Michael Douglas...

Our story is about a drug addicted ex-detective in rehab who investigates the death of a fellow resident and discovers it was murder.

BEST LOCATION?
Hey - it doesn't have to be Michael Douglas, that could be Mel Gibson or Russell Crowe or Gerard Butler. I'm still telling the same basic story and exploring my personal theme but we aren't alienating the core film audience. Plenty of 15-25 year olds see Gerard Butler movies - and so do people my age and people my parent's age (retired). You may not think this is an improvement on the original story, but by making the character younger many more people will understand his problems - our story will touch more people. From a pure business perspective - the old version didn't have a snowball's chance in hell of ever selling, this version does. (Actually, it did - the script was called D-TOX and Stallone plays the lead).
But let's look at another element - location. Though we've already changed it from an old folks home to rehab, is "rehab" the most exciting location we can come up with? What makes this location interesting? Okay, there is the murder - but that's part of PLOT not LOCATION. There are hundreds of rehab centers, what makes this one special? What if the rehab center was a huge old mansion that was rumored to be haunted? Or if the mansion was built by an eccentric millionaire and has secret passages and trap doors? Or what of this is the "rehab center of the stars" and our victim and the suspects are all famous? Here's a better idea along those lines - what if it's the rehab center for government employees with Top Secret clearance? We can't have these guys detoxing someplace where they might accidentally spill a secret while going through withdrawals, so they ship them here. The Betty Ford Center For People Who Know Too Much - I think that's a great location!
BEST SUPPORTING ACTORS?
Our ex-detective probably becomes an ex-FBI agent... and think of the fun you'll have with all of the other residents/suspects! In our old folks home scenario we probably had ex-car salesmen and ex-insurance salesmen... here we have ex-Senators and ex-spies and ex-astronauts and maybe even an ex-President! These are more interesting characters to write about - and more interesting characters to see on screen. I'd pay to see a movie about the location even if there wasn't a murder mystery!
Which is the point of breaking your story down into elements and trying to improve each element separately - if every element of your story is intriguing and interesting it's another reason for the audience to see your film (and another reason for a producer to buy your script). I think Location is the most mundane of these elements, but that simple improvement has made our script more exciting. The most important element is probably Conflict - that's the engine for your story and if it's not running at optimum power your whole story will break down. Look at each element of your story and make sure it's exciting and involving before you type up the 110 page version. A little brain work up front will save you a lot of rewrite work later... and insure that every element of your script is exciting.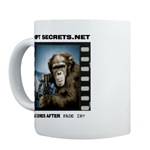 SCRIPT SECRETS STORE
Start The Day The Coffee Way!
FINALLY!

*** THE SECRETS OF ACTION SCREENWRITING *** - For Kindle!

*** THE SECRETS OF ACTION SCREENWRITING *** - For Nook!

Why pay $510 for a used version of the 240 page 2000 version that used to retail for $21.95? (check it out!) when you can get the NEW EXPANDED VERSION - over 500 pages - for just $9.99? New chapters, New examples, New techniques!

"SECRETS OF ACTION SCREENWRITING is the best book on the practical nuts-and-bolts mechanics of writing a screenplay I've ever read." - Ted Elliott, co-writer of MASK OF ZORRO, SHREK, PIRATES OF THE CARIBBEAN and the sequels (with Terry Rossio). (ie; 4 of the top 20 Box Office Hits Of ALL TIME.)
BRAND NEW!

*** SUPPORTING CHARACTER SECRETS *** - For Kindle! (Exclusive)




Expanded version with more techniques to flesh out your Supporting Characters and make them individuals. Using the hit movie BRIDESMAIDS as well as other comedies like THE HANGOVER and TED and HIGH FIDELITY and 40 YEAR OLD VIRGIN and many other examples we look at ways to make your Supporting Characters come alive on the page. Print version was 48 pages, Kindle version is around 170 pages!

Only $2.99 - and no postage!




NEW!

*** YOUR IDEA MACHINE *** - For Kindle!

*** YOUR IDEA MACHINE *** - For Nook!

Expanded version with more ways to find great ideas! Print version is 48 pages, Kindle version is around 155 pages!

Only $2.99 - and no postage!




NEW!

*** CREATING STRONG PROTAGONISTS *** - For Kindle!

*** CREATING STRONG PROTAGONISTS *** - For Nook!

Expanded version with more ways to create interesting protagonists! Print version is 48 pages, Kindle version is once again around 155 pages!

Only $2.99 - and no postage!




NEW!

*** DIALOGUE SECRETS *** - For Kindle!

*** DIALOGUE SECRETS *** - For Nook!

Expanded version with more ways to create interesting protagonists! Print version is 48 pages, Kindle version is almost *200* pages!

Only $2.99 - and no postage!
Use your creative energy to focus on the content; let Final Draft take care of the style. Final Draft is the number-one selling application specifically designed for writing movie scripts, television episodics and stage plays. Its ease-of-use and time-saving features have attracted writers for almost two decades positioning Final Draft as the Professional Screenwriters Choice. Final Draft power users include Academy, Emmy and BAFTA award winning writers like Oliver Stone, Tom Hanks, Alan Ball, J.J. Abrams, James Cameron and more. * * * Buy It!

SECRETS OF ACTION SCREENWRITING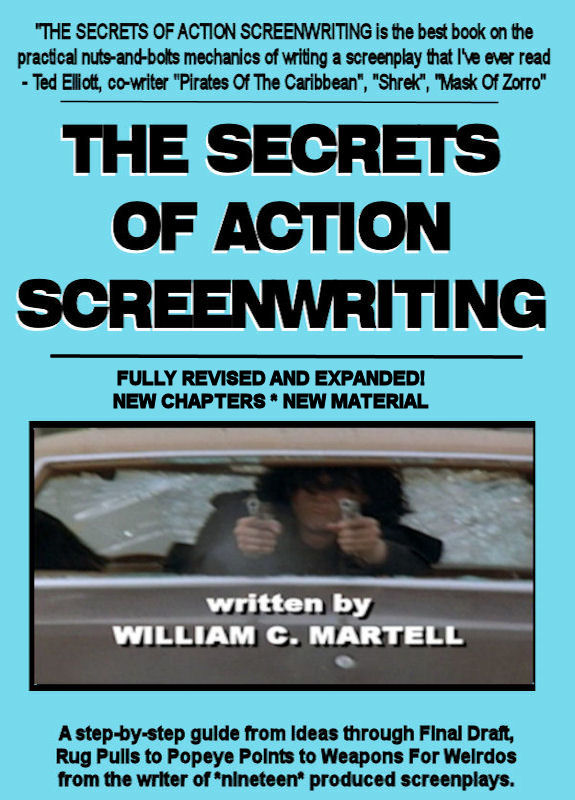 IT'S BACK! SECRETS OF ACTION SCREENWRITING
Over 460 pages packed with tips and techniques. How to write a plot twist, the four kinds of suspense (and how to create it), reversals, ten ways to invent new action scenes, secrets and lies, creating the ultimate villain, five kinds of love interests, MORE! CLICK HERE!
CLASSES ON CD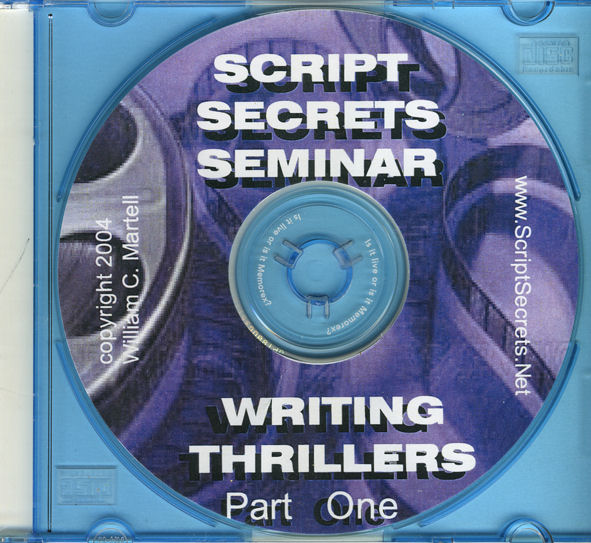 CLASSES ON CD! Take a class on CD! GUERRILLA MARKETING - NO AGENT? NO PROBLEM! and WRITING THRILLERS (2 CDs). Full length classes on CD. Now Available: IDEAS & CREATIVITY, WRITING HORROR, WRITING INDIE FILMS, more!
Take classes on CD!
SCRIPT SECRET SEMINARS
Like the website? Take the class!
SCRIPT SECRETS SEMINAR
Now with The Thematic!


Bill's Big 2 day London class comes to:
* Los Angeles - Postponed 2012
Hundreds of techniques to improve your writing, focusing on theme, character, creativity, ideas, pacing... more!
MY OTHER SITES
B MOVIE WORLD
Cult Films, Exploitation, Bikers & Women In Prison, Monster Movies.
FIRST STRIKE PRODUCTIONS
Producing my own scripts, investment possibilities, pipe dreams.
NAKED SCREENWRITING CDs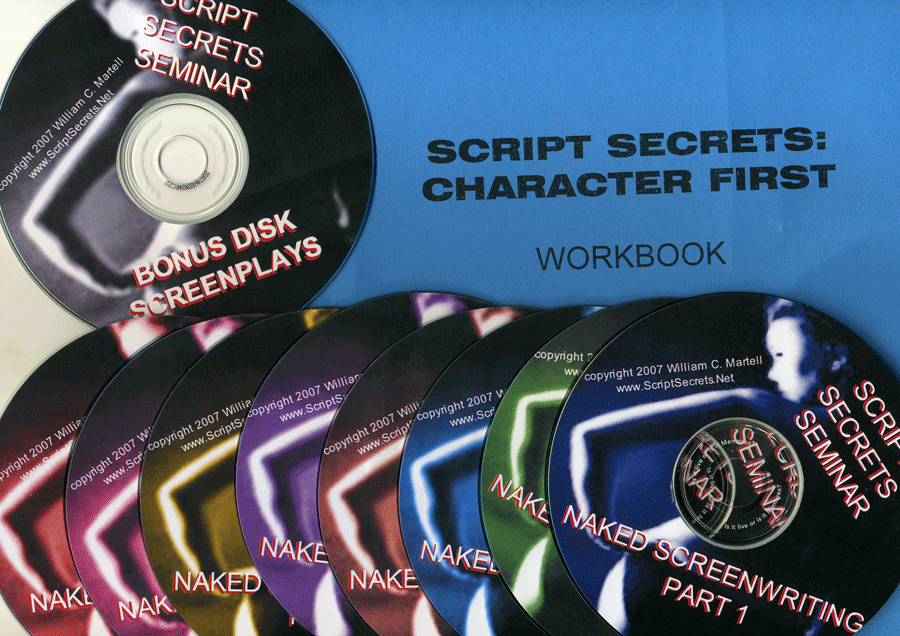 The NAKED SCREENWRITING CLASS ON CD! The 2001 London Class on 8 CDs! Recorded *live* the morning after the Raindance Film Festival wrapped. The two day class on 8CDs, plus a workbook, plus a bonus CD.
The 2 Day Class on CD!
SCRIPT LIBRARY
Thriller and Action Script Headquarters!
THE SCRIPT LIBRARY
Ever wonder what the scene looks like on the page? Read the script and find out!

TRAILER PARK
The latest coming attractions from films new and old!
SCREENWRITING LINKS
One stop shopping for screenwriting resources!
SCREENWRITING LINKS
From the WGA to Copyright to other great sites like WordPlay - If it's on the web, we'll take you there! Plus research links! Need a Space Shuttle schematic?
BOOKSTORE
Every screenwriting book in the world!
SCREENWRITER'S BOOKSTORE
In Association With Amazon.com
From the latest screenwriting book to guides for finding agents and producers... all with at the Amazon.com discount!
SCRIPT SECRETS STORE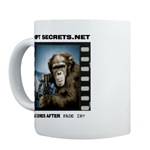 SCRIPT SECRETS STORE From Typing Monkey coffee cups to messenger bags to T shirts - everything a screenwriter needs to look sharp while working on that Oscar nomination! Get your Script Secrets Coffee Cup today!
BILL'S CORNER
My nineteen produced films, interviews with me in magazines, several sample scripts, my available scripts list... And MORE!
...............................BILL'S CORNER


BOOKLETS & PRODUCTS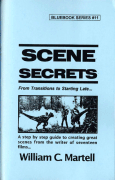 FIRST STRIKE BLUE BOOKS
Each Blue Book is 48 pages and focuses on a different aspect of screenwriting. Dialogue. Visual Storytelling. Your First Ten Pages. Act 2 Booster. Protagonists. Great Endings.
Seventeen Blue Books now available!

THE SECRETS OF ACTION SCREENWRITING OUT OF PRINT!
LECTURE SCHEDULE
Where can I catch Bill Martell in person?
LECTURES & EVENTS
For some reason film festivals keep inviting me to lecture on screenwriting. Dates and locations of where I'll be, plus a calendar of film festivals and writers conferences.
SCRIPT SECRETS SEMINARS - Like the website? Take the two day class!